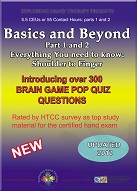 Description:

Introducing THE BRAIN GAME in this comprehensive 55 cotact hour CEU package contains the basics and beyond part 1 and 2 in CD format ( 55 contact hours). You choose when you want to take your hours for CEU credits via three (3) separate exams. Exam 1 and 2 correlate with Basics and Beyond - Part one Basics is 30 credit hours, and part two Basics is 25 credit hours. . Take either one of the Basics and Beyond exam when YOU need the CEUs as exams don't expire! The Basics & Beyond is an interactive CD (formly known as Basics & Beyond: A Comprehensive Study of the Hand and UE) has been updated and we added the BRAIN GAME pop quizzes throughout the 20 chapters. Basics and Beyond has been rated by HTCC test takers as one of the most popular prepration courses for the CHT exam. The Basics and Beyond CD is primarily in text format with integrated movie clips and over 300 Brain Game Pop QUIZZES throughout the course. The BRAIN GAME is designed to challenge your mind, test your knowledge and enhance clinical skills. Also over 200 exam questions to help solidify your knowledge and/or assist with CHT preparation. Excellent for any therapists looking for a fantastic comprehensive UE course as well as a CHT. You will learn and solidify your clinical knowledge and skills. This course is fun, informative, interactive, and comprehensive. MUST HAVE. EHT highly recommends Part 1 and 2 to benefit the most from this fantastic course. Note: this course does NOT have a manual for sale with it. If you print out the entire course and weblinks it will be over 1,600 pages! You will immediatley receive your CEU certificate upon successful (80%) completion per exam.
| | | | |
| --- | --- | --- | --- |
| CEUs: | 5.5 | | |
| Contact Hours: | 55 | | |


Objectives

• Recognize classics signs for common diagnosis seen in hand and upper extremity diagnosis including cumulative trauma disorders, burns, tendons, arthritis, RSD and the traumatic hand

• Identify principles of splinting

• Recognize research components and research terminology to assist with deciphering research jounal papers.

• Identify types flaps and grafts and what type of intervention is indicated for each type

• Determine activity modification and pain relieving techniques for patients with arthritis

• Recognize the causes and treatment implications for the stiff hand.

• Delineate the splints best utilized for various upper extremity pathologies

• Recognize the surgical and therapeutic management of a wide array of disorders

• Identify universal precautions and how to prevent the spread of germs.

• Recognize signs and symptoms of Complex Regional Pain Syndrome.

Recognize signs and symptoms of repetitive stress syndrome

Excellent resource, Excellent guide to prepare for the CHT Exam

• Identify the anatomy of the upper extremity and its relationship to successful rehabilitation process

• Identify anatomy terminology and definitions for the upper extremity

• Identify commonly used assessments of the upper extremity from shoulder to finger

• Determine appropriate moist wound care products for upper extremity wound care management

• Recognize the appropriate occupation based use of specific physical agent modalities related to upper extremity injuries

• Delineate a plan of care for clients with upper extremity injuries based on assessment data and desired client occupation-based outcomes.

• Recognize specific nerve injury patterns

• Identify shoulder pathology and related implications for intervention

• Identify elbow disorders and appropriate therapeutic interventions

• Determine surgical and therapeutic management for a wide array of fractures and disorders of the upper extremity.

• Identify surface anatomy of the wrist

• Recognize bony land marks of the wrist as shown on x-ray.

• Identify the healing phases of fractures.

• Differentiate cutting edge treatment for Dupuytren's disease compared to traditional intervention

Outline
Anatomy Extravaganze of the Upper Extremity
Evaluation
Modalities
Upper Extremity Wounds
Neuroanatomy and Sensory Re-Education
The Shoulder Complex
The Elbow: From Anatomy, to Pathology, to Treatment
The Complex Wrist
Fractures of the Upper Extremity: From Theory to Treatment
Dupuytrens Disease – Research to Rehabilitation
Repetitive Strain Injury Relating to Cumulative Trauma Disorders
Flaps, Grafts, and Burns
Flexor and Extensor Tendons: Research to Clinical Application
Osteoarthritis and Rheumatoid Arthritis
Splinting: From Static, to Static Progressive and Everything In Between
How to Manage the Stiff Hand
Complex Regional Pain Syndrome (CRPS)
Traumatic Hand and Prosthetics
Ergonomics
Research and OSHA


The package includes the following:

RETIRED Basics and Beyond Part 2: Everything you Need to Know; Shoulder to Finger (CHT Prep Course) RETIRED Basics Part 1

Qty Discount Available with this item. Click Here for details.
| | | |
| --- | --- | --- |
| Price: | $649.00 | |
---
Reviews
I HIGHLY recommend your "Basics and Beyond" course as a primary resource for preparing for the CHT exam. I used this as my main studying source and passed the exam the first time
I found it very helpful in studying for the CHT exam.
Susan and Nancy- First of all, I would like to give you all a huge thanks for helping me to pass the CHT exam this year!! I used your Basics and Beyond CD as well as the "purple book" along with some other references and felt very prepared. The practice tests were also well worth the money.